We buy houses and can close fast!
If you have a distressed property, if you acquired unwanted property through inheritance or a divorce, behind on payments, too many repairs, back taxes, pre foreclosure or just need to sell immediately, give us a call. We can offer you cash for the property and take the burden off of your hands. We know there are many new cash buyers in San Antonio who you could call, but a few things set us apart from the rest.
Experience – We have been buying "ugly homes" for over a decade, well before it was a trend. We understand the legal process of selling under tough circumstances and can walk you through to make the transaction as smooth and stress-free as possible.

 

Compassion – You will be treated with fairness and dignity, no matter your situation. We have a reputation of good customer service to uphold and we will always stand by that.
Pecan Tree Realty was founded by broker/owner, Fernando Lozano. He is passionate about serving his clients with excellence and integrity. In over a decade in real estate, he has worked in San Antonio, surrounding areas and the Hill Country. Fernando is well versed in the art of negotiation and will make sure his clients get the best deal, whether buying, selling or investing.
As a seasoned investor, Fernando knows the "ins and outs" of buying and selling distressed properties, rehabbing homes, owning rentals, flipping and wholesaling. He also enjoys helping entrepreneurs achieve their goals.
After graduating from Baylor University with a business degree, Dana enjoyed working as a Marketing Manager with The Coca-Cola Company for over 12 years. Her extensive professional background in sales and marketing allowed her to master strong negotiating skills and learn the importance of providing superior customer service. She recognizes the trust her clients place in her and strives to consistently exceed their expectations. As a result, her real estate success is almost exclusively based on personal referrals.
Born and raised in San Antonio, she has an intimate knowledge of the city and surrounding areas. After identifying her clients wants and needs, she's able to confidently guide them through the home buying and selling process. She listens intently, offers candid advice, and works tirelessly to provide the best experience for her clients.
After years of teaching and being a full-time mom to her three kids, Julie's career in real estate began in 2017 when she worked as a real estate assistant and executive assistant to a successful broker in north central San Antonio. Julie has a master's degree in education and uses her skills of active listening, guiding, teaching and administration to assist her clients through the entire home buying and selling process. Her passion is helping people and brings a high level of integrity to each transaction. Having moved and lived in many homes throughout her life, she knows how stressful, joyful, and rewarding the home buying process can be.
Julie's real estate partner is Erin George and together they form the True-TX-Reality Team at Pecan Tree Realty. Julie and Erin offer a concierge experience for their clients whether they are first time home buyers, investors, or in need of a rental home. Erin and Julie bring a combination of hospitality, business savvy, San Antonio local knowledge, and a commitment to  excellence with each of their clients.
"Where is HOME?" This was a question Erin struggled with growing up as she was always on the move, never certain of the next place she would call home. Born in Wyoming and then moving on to Colorado, New Mexico, Arizona Kentucky, Georgia, and Florida she never felt at home until TEXAS!
Fast forward to 2010 when she planted her roots here in San Antonio and the beautiful Texas Hill Country to be near family by way of Corpus Christi and Houston.
After 20 years in Hospitality and Culinary Management she decided to change her path and help others find their home. As a part of one of the friendliest cities in America, she strives to provide an honest and true representation of our community and hospitality; by not only giving her years of experience in Customer Service, Global Hospitality Management, Sales and Marketing as well as Military Moves but also by helping you build your sense of community and HOME!
Her real estate partner is Julie Dorsey Sanchez and together they form the True-TX-Reality Team at Pecan Tree Realty. They offer a concierge experience for their clients whether they are first time home buyers, investors, sellers, farm and ranch, as well as active duty or retired military. They bring a combination of hospitality, business savvy, San Antonio and Texas Hill Country local knowledge, and a commitment to excellence and integrity with each of our clients.
"Go confidently in the direction of your dreams and live the life you imagined."
– Henry David Thoreau
Member:
National Association of REALTORS®
Texas Association of REALTORS®
San Antonio Board of REALTORS®
San Antonio Multiple times Listing Service
Ryan knows Real Estate! Representing San Antonio clients, and future clients Ryan is committed to listening to your needs and utilizing his keen negotiating skills and professional experience to ensure a successful and effortless transaction.
Born and raised in San Antonio, Ryan understands the intangible benefits of living in south Texas, with its rich diverse culture, unmatched weather, and scenic Hill Country. Ryan graduated with an International Business degree from Chaminade University of Honolulu and has spent over 14 years working for top 10 insurance carriers in various leadership and strategy roles.
Ryan and his family currently reside in Boerne, TX. He is active in his church, community and is well-connected. Ryan understands the importance of trust and is committed to meeting your needs, keeping you updated, and walking with you every step of the way!
Jovannie was originally born in Chicago, IL but has called San Antonio home since the age of 12 making his knowledge of the city and surrounding areas exceptional. Fresh out of high school he felt lost and had no idea which direction his life was heading. With numerous family members already in the industry, real estate seemed to have found him and has become second nature.
Jovannie's burning passion for helping others was born by getting the chance to observe first hand the pure bliss professionals in the real estate industry can provide to everyone. For him real estate is more than just buying and selling properties. It is about the lasting relationships that he has the wonderful opportunity to build with his clients. He takes great pride in offering white glove service tailored to each and every one of his client's specific needs. He enjoys taking a hands on approach by listening and observing what his clients are in need of and devising the quickest and most effective course of action.
When Jovannie is not busy helping families he enjoys spending time with his loved ones typically doing some sort of adventurous outdoor activity. He is eager to earn your business and would love the opportunity to show the great value that he knows he can provide!
After serving seven years in the United States Army, Ana has returned to her home city to pursue her passion in real estate. Ana understands the challenges and frustrations buying or selling can bring, that's why she will make it her first priority to ensure that this process is fun and stress free for her clients.
She knows how important it is to communicate and remain committed to her client's interest and needs. After moving a few times throughout her military career, she recognizes how crucial it is to find the perfect house that fits your family's needs.
When Ana is not assisting her clients in real estate she enjoys spending time with her husband and their dog, Chief.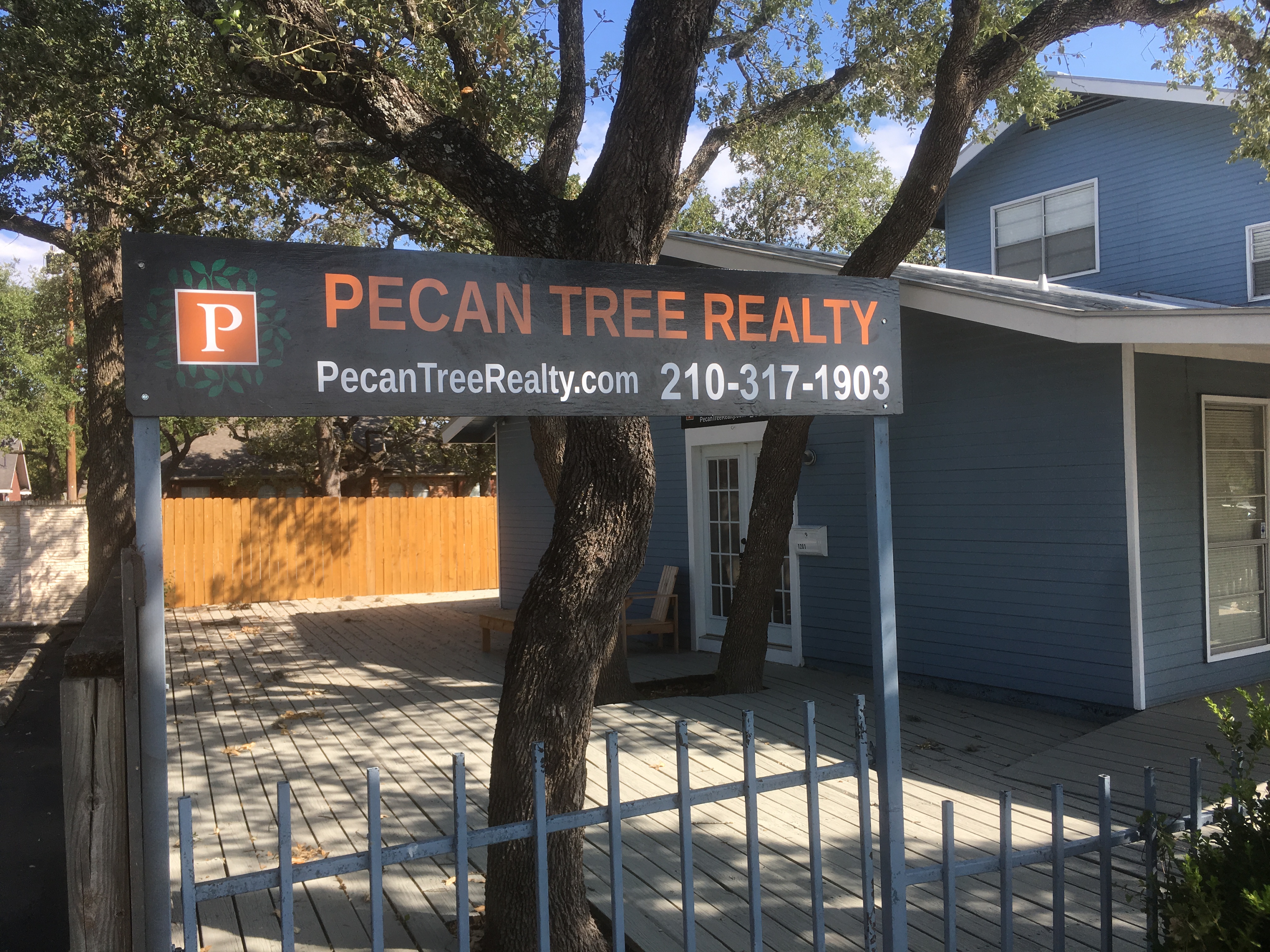 PECAN TREE REALTY
2551 N PanAm Expressway
San Antonio, TX 78208